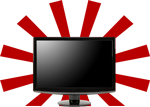 Monoff (updated August 3, 2011)
Monoff will save the world! Ok that's probably an exaggeration, but it can save a bunch of energy by turning off your computer monitors. Put it on your desktop, click it, and your monitors will turn off. Move your mouse or hit a key and they'll come back on.
If you need more control over delays before your monitors turn off you might want to check out Sleeper.